China Mobile Limited (the "Company", and together with its subsidiaries, the "Group") was incorporated in Hong Kong on 3 September 1997. The Company was listed on the New York Stock Exchange ("NYSE") and The Stock Exchange of Hong Kong Limited ("HKEX" or the "Hong Kong Stock Exchange") on 22 October 1997 and 23 October 1997, respectively. The Company was admitted as a constituent stock of the Hang Seng Index in Hong Kong on 27 January 1998. On 7 May 2021, the NYSE filed a Form 25 with the US Securities and Exchange Commission (the "US SEC") to strike the Company's ADSs from listing and registration, which have taken effect on 18 May 2021. On 5 January 2022, the Company's RMB ordinary shares ("RMB Shares" or "A-Shares") were listed on the Main Board of Shanghai Stock Exchange ("SSE").
As the leading ICT services provider in the mainland of China, the Group provides communications and information services in all 31 provinces, autonomous regions and directly-administered municipalities throughout the mainland of China and in Hong Kong SAR, and boasts a world-class telecommunications and information operator with the world's largest network and customer base, a leading position in profitability and market value ranking. Its businesses primarily consist of mobile voice and data business, broadband and other services. As of 31 December 2021, the Group had a total of 449,934 employees, and a total of 957 million mobile customers and 240 million wireline broadband customers, with its annual revenue totalling RMB848.3 billion.
The Company's ultimate controlling shareholder is China Mobile Communications Group Co., Ltd. ("CMCC"), which, as of 31 December 2021, indirectly held approximately 72.72% of the total number of issued shares of the Company. The remaining approximately 27.28% was held by public investors.
In 2021, the Company was once again selected as one of The Global 2,000 World's Largest Public Companies by Forbes magazine and Fortune Global 500 by Fortune magazine. The China Mobile brand was once again listed in BrandZ™ Top 100 Most Valuable Global Brands 2021 by Millward Brown ranking 68. Currently, the Company's corporate credit ratings are equivalent to China's sovereign credit ratings, namely, A+/Outlook Stable from Standard & Poor's and A1/Outlook Stable from Moody's.

China Mobile Principal Organizational Structure
(As at 31 December 2021)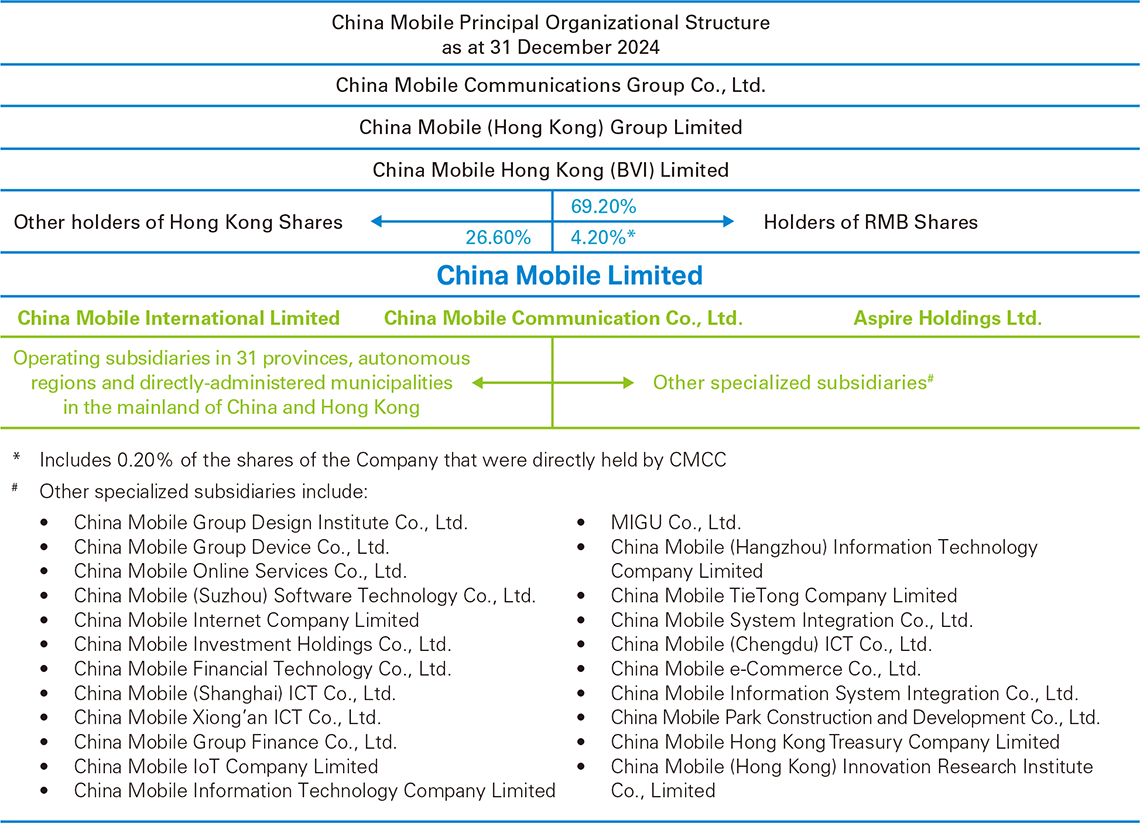 List of Directors of Subsidiaries