The Company ranked 32th in Forbes Magazine's 2021 "Forbes Global 2000".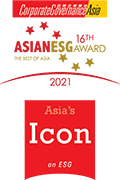 China Mobile Limited was awarded the accolades of The Best of Asia - "Asia's Icon on ESG" in the "16th Asian ESG Award 2021" held by Corporate Governance Asia.

China Mobile Limited had won the Gold award in "The Asset ESG Corporate Awards 2020" held by financial magazine The Asset.